BACKGROUND
---
Employment Training Solutions is a family owned and operated training provider based in the Pilbara region since 2010, operating out of Newman, Tom Price, Exmouth, Port Hedland and Broome.
Our mobile road train gives us the advantage to provide towns and cities all over the Pilbara with cost effective training as there is no need to fly in any trainers from Perth. Our set up allows us to use our Volvo NH12 for Heavy-Rigid (HR) training and with the two trailers on it, as a platform for Multi-Combination (MC) training and assessing. Our mobile training room can seat up to 8 people and features air conditioning, kitchenette and a projector for teaching purposes. We have also designed our rig to be used for Working at Heights courses.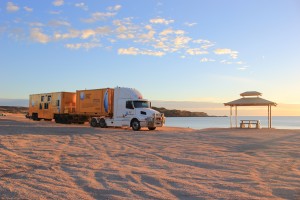 TRAINERS
---
Our trainers, Chris Nalder and Howard (Bob) Nicholson, has extensive experience in the mining industry and have provided safety training and driver training to clients such as BHP Billiton, Rio Tinto, Roy Hill and local councils at sites such as Roy Hill, Mining Area C, Silvergrass, Whaleback and more.
Both Chris and Howard takes pride in delivering quality and timely training, no matter what the requirements are – they will get the job done.
FLEET
---
Our fleet currently consists of the following vehicles:-
2 x Volvo NH12 (12 speed Syncromesh Gearbox)
Freightliner FL80 (9 Speed Road Ranger Gearbox)
Toyota Prado
Mobile Training Facilities